ÎBUV. MIR KOZHI (Spring)-2007 Rolls Out High-End Footwear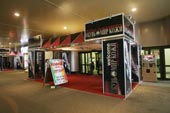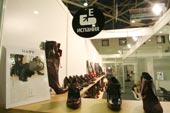 April 23-27, the show grounds of Pavilion 2 (Halls 1, 2 and 3), "Expocentr" Central Exhibition Complex, were engaged to support "Obuv. Mir Kozhi (Spring)-2007" – the 26th international exhibition of footwear and other leather goods, the affair being arranged by ZAO "Expocentr" together with "BolognaFiere" (Italy) and ANCI (Italian Association of Footwear Manufacturers). Importantly, the Exhibition has been enjoying a good deal of patronage from the Chamber of Commerce and Industry of the Russian Federation.
Starting from 1997, the Exhibition has been run on a twice-a-year basis (Spring and Fall). Given its superior achievements, the Exhibition has received the UFI (World Association of Exhibitors) and RUEF (Russian Union of Exhibitions and Fairs) awards.
To point out, the Exhibition's spring event has come to be the record-breaker in terms of participants and footprints. To add, its quality specifics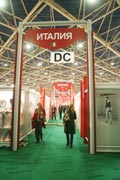 likewise have been on the rise. To underscore, the spring events have generally rolled out assorted high-end and top-quality products from manufacturers whose points of sale could be seen carried by the world's most prestigious retail chains and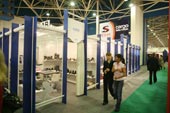 department stores.
The world's leaders in the fabrication of footwear and other leather goods have been demonstrating their new collections of high-end products. Russian experts and designers could examine new trends in the area of 2007/2008 Fall-Winter footwear items, modern style and footwear design breakthroughs, advanced industrial lines, and prospective materials, the circumstance amounting to the overall relevance of the show for domestic footwear manufacturers.
Importantly, numerous display stands carried: men's, women's and children's footwear items; prospective collections of design products; ready-made leather goods; haberdashery (purses, belts, suitcases); gloves, footwear care items and numerous leather products for other applications.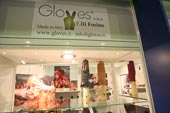 Importantly, the 2nd salon "Purses and Haberdashery" was run as part of the "Obuv. Mir Kozhi-2007" Exhibition.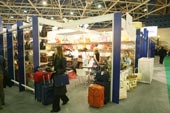 Given its overall net footprint of about 7600 square meters, participants included close to 400 firms from Austria, Germany, Spain, Italy, Lebanon, Portugal, Russia, Turkey and France.
The event's major players included COOPER, Enzp Logana, Ricima, Gode, B2, Giotto, Pola and other firms whose products could soon be seen in the shop windows of numerous Russian stores and retail chain outlets.
---